Landlord-tenant disputes are a common occurrence in the renting process. Some of these disputes could be avoided if landlords and tenants were aware of their rights and responsibilities.
Tenants should: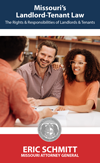 1. Pay rent on time.
2. Use reasonable care and not damage property.
3. Properly dispose of garbage.
4. Refrain from taking on additional occupants or subleasing without the
landlord's written permission.
Landlords should:
Make property habitable before tenants move in.
Make and pay for repairs due to ordinary wear and tear.
Refrain from turning off a tenant's water, electricity or gas.
Provide written notice to tenants when ownership of the property is transferred to a new landlord. Not unlawfully discriminate.
For more information, read our Landlord-Tenant Law publication. 

You might also be interested in: